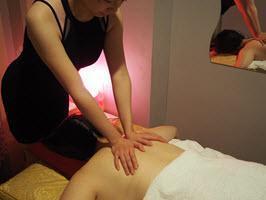 Town Hall Massage
Generally considered the focal point of the CBD, Town Hall is surrounded on all sides by numerous massage parlours. These ones are a few minutes walk away, but have the reputation you need to be assured of a great adult relaxation massage.
Star Massage is a spacious parlour with 7 rooms. It is located  in a beautiful building just a few minutes down Park Street from Town Hall / QVB. Featuring large rooms, bathroom with shower, and a good variety of attractive masseuses each day, it is highly recommended. Formerly called JK Queen, the new management have maintained the quality of the massage and masseuses, and it is now more popular than ever.
Thairapeutic - with some of the city's most desirable girls - now found in World Square building with entrance from George Street.
A few blocks from Town Hall and in the shadow of Centrepoint Tower is Oriental Therapy Massage. A very spacious clinic, nicely styled and with shower facilities, this one is worth your visit when in the area. The shop photographed beautifully.