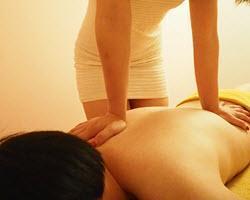 The area around Central Station is ripe with Asian massage parlours, but again, we've limited our selection to the best. While Posh is tucked inside the building our other clinics are all found on George Street, either up a flight of stairs, or by lift.
121 Massage (Formerly known as Posh) - 121 Quay Street is just a short walk from George Street at Railway Square. An institution in this part of town, the premises are simple, but the massage and the masseuses are superb. Look for the red sign above the doorway behind the Byron Bay Coffee Shop in the foyer of the building.
Irene's Massage at 741 George Street is also tucked away down an alley, but a well-managed parlour with great girls.
Moon Bay at 316 Elizabeth St (Surry Hills side of Central) has had many names in the last few years - Flower, 316 Central and Princess, but it remains at a great location and close to a great pub (Aurora Hotel on the corner of Kippax Street.
Just down George Street (no 651) in the heart of the Haymarket you'll find long-time favourite Bamboo (formerly of World Square). Nice Thai themed decorations and attractive girls make this one of the area's best.