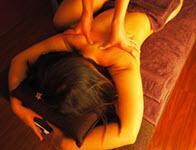 Considered generally to be north of the QVB, the Sydney CBD Mid-City area does not have the variety of choice provided by the Haymarket area, so we have been very picky in this selection.
Oriental Therapy Massage really focuses on service and customer satisfaction with modern styling, spacious rooms including a couples room and a shower / toilet. Open to 8pm 7 days (7pm Sundays), this parlour (and also the one below) are styled in a more upmarket fashion to many in the city.
Across town towards the west is CBD Massage & Waxing. Open late (9pm), this elegant clinic in a beautiful building with stone façade provides expert full-body waxing in addition to therapeutic and relaxation massage.
Sydney Mid-City CBD Relaxation Massage
The CBD massage therapy you deserve.